Spring 2020 Market Research Council Newsletter
What a year it's been! 
Of course, the major topic has been, and for months to come will be, the coronavirus and its impact on everyone. We are sheltering in place, working from home, and hoping for resumption of a "new normal" soon.
Just a few months ago, MRC's new year kicked off with a panel discussion at the Yale Club, then an alternative meeting venue and two videoconference (Zoom) presentations. Gracious contributions from several sponsors have helped to support these events.
And after many years and much discussion, our website was relaunched with a clean, modern and user-friendly face. Take a look at the rest of our site and content!
---
Presentation Highlights
April 17, 2020 – "Election 2020: The American Voter in the Age of the Coronavirus" 
Hosted by Geopath, a panel of four renowned public opinion researchers was chaired by Sarah Dutton, CEO Rockland Dutton Research & Consulting & Jim Donius, PhD, President, Marketplace Measurement Worldwide – Public Sentiment Division 
Panelists: 
Lee Miringoff, PhD, Director of the Marist Institute for Public Opinion and Assistant Professor of Political Science, Marist College 
Joe Lenski, co-founder and Executive Vice President of Edison Research 
Clifford Young, PhD, President, US Public Affairs, IPSOS 
Lee talked about the 'electability' of candidates Biden and Sanders, the role of 'early voting', margins of error and their role in who made the cut to be at the democratic debates, mail voting, and the impact of covid-19 on approval ratings of politicians.
Joe reported on research conducted in 23 states. He discussed challenges with both entrance and exit polling, early voting, different methodologies and timings, the impact of covid-19 on in-person voting, and endorsements. He further spoke about late deciders, the gender gaps, age and race and political philosophy as factors.
Cliff touched on the healthcare vs. economy tradeoff. Also, consumer confidence, differences in 'who stays at home' and reactions to the nationwide lockdown, behavioral changes in regard to eating out and visiting friends. An interesting slide showed how POTUS fared during wartime vs. an economic depression.
Sarah mentioned the vote by mail issue, how it would be difficult to switch to it, and take much longer to get results. Early voting and absentee ballots are found to be unaffected by late breaking news and events.
She pointed out that the national election is in reality, 50 state elections, some with more diverse populations than others, which compounds the challenge of making projections.
Everyone agreed that it is was way too early to make any predictions, and that with COVID, the possible lack of live rallies and conventions, and a multitude of uncertainties, this election year will be unlike any in history.
---
March 27, 2020 – "Developing Insights IN and ABOUT the Age of Age: Lessons from VMLY&R's Healthcare Practice" 
Presenters:
Belle Frank, Chief Strategy Officer, Global Health Care Practice, VMLY&R
Carrie Patterson Reed, Managing Director, Research, VMLY&R 
Carrie opened with a question about the relevance of research and asked the rhetorical question: "Can't we just find it online?" She then stated that while we can collect enormous amounts of data this way, "facts are not insights!"
Belle followed by saying that age (or aging) is not a single number. The US today is comprised of about one-third boomers, one-third Gen X and one-third Millennials. Some people "feel old" regardless of their chronological age, and vice versa.
All of this has an impact on marketing, and especially on healthcare for all groups where one's life experiences are not always defined by one's age. Today, brands often transcend age groups.
Of note:
Because of the coronavirus and the need to 'social distance', this monthly luncheon was replaced with a webinar hosted by Geopath. It marked two firsts, 1. A webinar and 2. A free event.
Also, before the presentation, Bill Harvey eulogized Gale Metzger, mentioning his many contributions to our field. More about Gale's life is discussed later in this newsletter.
---
February 21, 2020 – "Stars of Attribution: The People and Ideas That Are Reshaping Advertising Research" 
This meeting was sponsored by Analytic Partners and hosted at Horizon Media – our first time outside of the Yale Club in many years.
Presenters:
Alice Sylvester and Jim Spaeth, Sequent Partners 
They named names!
Alice and Jim took turns calling out the individuals and companies that they deemed worthy of mention for their contributions to attribution measurement, both past and present.
They informed the 50+ crowd (number of attendees, not a demographic!) about the "stars" who have made an impact on measuring the value of TV, OOH and digital advertising.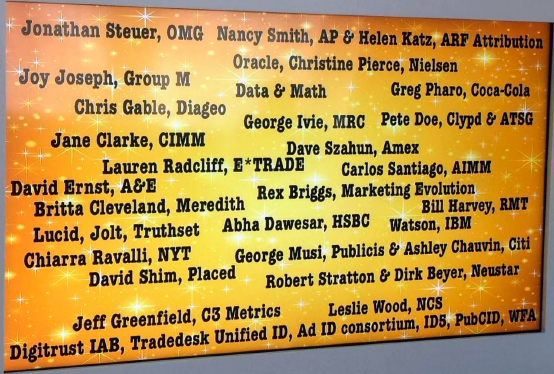 These 'stars' have helped and continue to help our industry to better understand what works (or not) and to quickly re-allocate resources to improve advertising effectiveness.
Collectively, the legion of people, their ideas, innovations and research findings, are redefining and reshaping the way media and advertising works to maximize ROI for advertisers.
Bill Harvey was invited to make a few comments about a recently funded ARF project.
---
January 31, 2020 – "Cross-Platform Measurement: What Do Brand Advertisers Really Want?" 
This meeting was supported by Tru-Optik who was represented by David Wiesenfeld, Chief Strategist. A panel of experts was moderated by Josh Chasin, MRC Vice President. 
Panelists: 
Belinda Smith, Head of Global Marketing Intelligence for EA 
Josh Palau, VP, Media Strategy and Platforms at Bayer Consumer health 
Aaron Smolick, Head of Paid Media Analytics & Optimization, JPMorgan Chase

Consumers can view content on many platforms (tv, cable and streaming) and see different ads on each. In addition, the 'walled gardens' of facebook, google and amazon account for a very high percentage (60-73%) of digital ads.
Aaron discussed the need and challenge to measure each channel using different methodologies and measurements.
Belinda talked about the need for data to determine the total share of voice (SOV) — both here and on a global basis. She introduced attendees to the WFA (World Federation of Advertisers) as an organization seeking to establish industry guidelines, deal with privacy issues and help country advertising associations (e.g. ANA in the U.S. has a new Measurement for Marketers Initiative with a similar mandate.).
Josh P and Aaron both mentioned that brands are doing their own internal research, generaally creating data and reports for marketing purposes.
All panelists agreed that in house research is not that easy nor realistic since management often wants to know 'everything' but not pay for it! The sense was that if something works and provides a positive ROI, it it not necessary to keep gathering even more data. Research should be kept simple and not overcomplicated.
The challenge of standardization was addressed by Melinda who pointed out that her company covers 42 markets globally, each woth its own nuances that cannot be codified. Some have no tv or print for ad delivery.
It was noted that although facebook and google have indicated that they would participate in WFA goals, they are very finite in exactly what is shared. After all, their revenue is largely dependent on knowing deatails about their audiences in order to maxiimaize targeted ads to them.
---
Market Research in the Media
After having chaired the January panel, and becoming convinced that traditional media research and audience measurement are changing, Josh Chasin most recently appeared in an online post (April 8th):
Earlier in January, Ira Schloss attended the annual Consumer Electronics Show in Las Vegas for the 15th consecutive year. After seeing a call for judges in 2019, he decided to apply — and was surprised to be selected. https://ces.tech/Innovation-Awards/Meet-the-Judges.aspx
He has since posted a few articles about new and innovative products that were introduced at CES.
---
In Memorial
Sadly, the MRC lost two longtime members. David Napior passed away on February 2nd at the age of 75, and Gale Metzger died at the age of 83 on March 16th. Excerpts from their obituaries are below:
Gale Metzger was one of the most brilliant people ever to work at Nielsen. Former head of NBC research Nick Schiavone, and a well-known critic of Nielsen, said "It's hard to remember anyone with 'Babe Ruth' status at Nielsen with the exception of Arthur Nielsen, Sr. & Jr., Gale Metzger, Ed Schillmoeller and Erwin Ephron."
When Gale left Nielsen, he became chief consultant to the industry's Committee On National Television Audience Measurement (CONTAM), the organization which sprung up when the U.S. Congressional Harris Committee began to investigate problems in the Nielsen system in the early 60s. It was through his work for CONTAM that he created a "Principles" document.
http://ticevision.com/wp-content/uploads/2017/08/CONTAM_Principles-of-Nationwide-Audience-Measurement_SRI_Aug-1990.pdf
This led to his SMART (Systems for Measuring And Reporting Television) initiative which was backed by major networks, advertisers and agencies to the tune of $40 million. One of the innovations of SMART was a universal code for each TV program, anticipating today's EIDR codes. https://adage.com/article/news/media-researcher-wins-praise-ability-sell-smart-gale-metzger/64560
David Napior was an active member of the MRC for 24 years.
He was born in Hamtramck, Michigan and was the eldest of seven children. He attended Harvard University on a full scholarship, graduating and continuing graduate studies there. During this time he became fascinated with computers and statistics, causing him to change from an education major to statistics. David's market research career started at SVP, followed by Abt Associates, Roper Starch and recently retired from GFK MRI as Senior Vice President of Research.
Ever the numbers man, David departed this world on 02/02/2020, a date palindrome.
David donated a kidney to his sister Carol at a young age and in turn received a liver transplant from his son Jesse later in life. He is survived by his wife Christine Cooper, four children and 11 grandchildren.
---
Suggestions? Comments? News?
As always, if you have suggestions or news about yourself and/or your company you want to include in future newsletters, please contact either or both of the following:
Back to News