President's Letter September 2023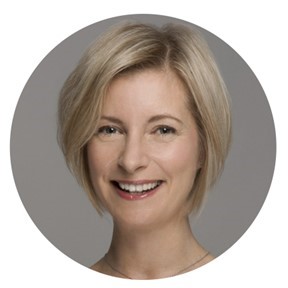 Dear MRC Members,
We had another fantastic turnout for the Annual General Meeting on September 6th! Over a third of members attended from locations around the world. For this members-only event, we decided to run this as a Zoom meeting rather than a webinar and I am so glad that we did. It meant that we could all see each other on camera and we were able to converse and offer suggestions as we ran through the agenda. What an enormous volume of chat and such high-quality conversation, particularly in the Q&A!
Let me re-cap the key points so that all members can be up to speed.
We started with a story of where we've been and the direction, based on member feedback, we feel we should take. See if you agree.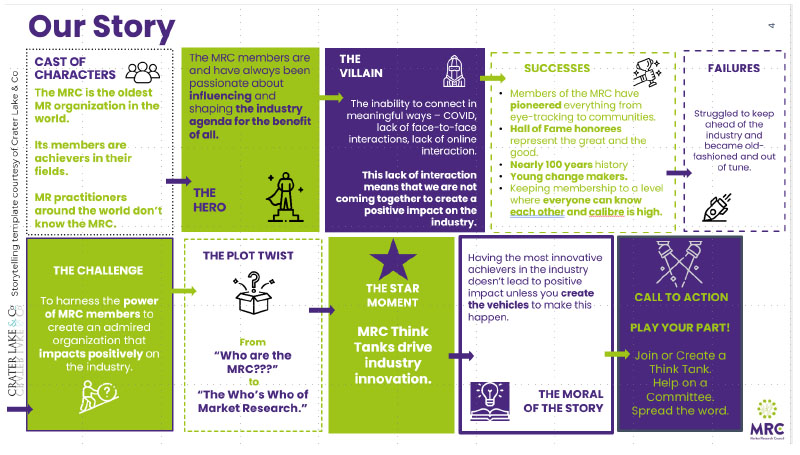 Highlights of 2022/23
As we emerged from the pandemic our theme was Celebrating Transformation. We set ourselves the goal of building our active membership to 100 by the end of the financial year and we achieved 96, being mindful to ensure that those who joined were all achievers in the field of market research and would give back to our community. On marketing we wanted to increase our Linkedin followers to 250 and in fact we now have 635. The new member welcome notices have been particularly successful in generating buzz! We had fabulous Hall of Fame honorees and award-winners in Diane Hessan, Reg Baker, Dan Quirk and Vanessa Oshima. Hall of Fame was face to face only, as was last year's summer party and we know how important face to face meet-ups are for our members. Programming topics last year included old favorites, like politics, set up by Ellen Sills-Levy, as well as new topics, like the international triangulating truth panel chaired by Finn Raben.
Finally, but very importantly, we succeeded in maintaining financial stability throughout the year!
Your MRC Exec 2023/24
To maintain stability during this transitionary phase your Executive Committee has remained in place. Bill Daddi has rotated off the Exec this year and we thank him for the tremendous contribution he and Daddi Communications have made over the years. Carol Haney is your Vice President and will become the President in July 2024. As Carol takes over the Presidency, members will vote for their new Vice President, who will, in the fullness of time become President.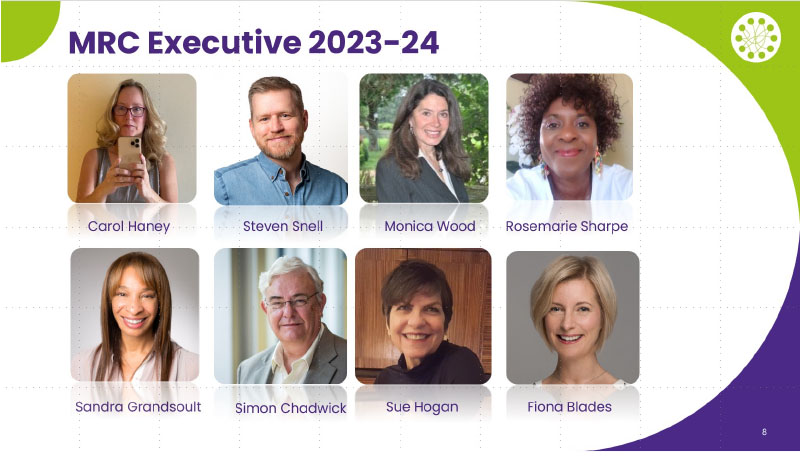 Theme and Strategies
We have taken ChatMRC as our theme to represent the essence of our members engaging with each other on important topics of the day. And we have kept our Strategies simple:
Members first
Re-building Face-to-Face
Committees
Carol is leading Membership Experience and expect her to reach out to you. She is keen to ensure members get to know each other and will be starting her reach-out to those who haven't yet completed their profile on the website. If you need any help in getting this done, please contact Rose at info@mrcouncil.org
Please also get in touch with Rose if you would like to join one of the Committees – our Chairs are very keen to get you involved! Sue was actively lobbying for marketing at the AGM!
Marketing – Simon and Sue
Think Tanks – Sandra
Hall of Fame – Monica
Programming – Steve
Executive Leadership Program – Fiona
Finance – Steve
We are also delighted that Nikki Lavoie will be joining Monica in the Hall of Fame team and has suggested meet-ups around industry events. If anyone is going to ESOMAR Congress next week, please get in touch with Nikki, nikki.lavoie@savanta.com.
And Clint Taylor, founder of Datality and possessed of a wealth of technical expertise, has stepped forward to be our go-to on tech!
Finance
Steve provided the financial report. We are a self-sustaining member organization and our member dues are the backbone of our finances. Last year we moved to anniversary billing with automatic payments and are extremely grateful to those who have moved to this. It saves the Exec constantly worrying about cashflow and chasing those who are late or have forgotten to pay. If you are not on automatic payment and would like to help us by transferring to this, please contact Rose.
We ended the year with $2.7k more in our bank account than at the end of the previous fiscal and remained cash positive. In particular, the Hall of Fame, through sponsorship and ticket sales, was net positive.
Another revenue stream open to us is sponsorship, so if you are interested in sponsorship opportunities please contact Simon or Rose.
Programming
Whether virtual, hybrid or face-to-face, our programming is designed to create an exchange of ideas. Steve gave us a taster of what to expect in the coming year with themes including AI and politics as well as announcing a new series – MRC: Meet the Author, to be chaired by J. Walker Smith. The inaugural event, September 21st 12.30pm ET, featuring Fred John (author) and Meredith Norwich (publisher) is entitled "Getting your Message to the World: Advice on Publishing in Marketing Research". We are opening this event up to anyone interested so feel free to publicize. After that the series will be for members only to keep the intimacy of the experience. Following Fred, Dr Rachel Lawes will be the first author we meet in October.
Please go onto the website and click on the calendar invites for our upcoming events to ensure you have "saved the date"! https://mrcouncil.org/events/
Think Tanks
Sandra outlined the vision for Think Tanks as our innovation hubs. This is where we can tackle issues that we believe are important for the industry and can put our MRC members' brains to work. We hope that they will champion debate, invite disruption and ignite change across the industry. We have one Think Tank set up on Inclusive Insights and Sandra is keen to launch another 1-2 this year. This is a new area that could benefit enormously from our members joining in. Please contact Sandra if you would like to join her Think Tank Committee. sandra@equitasinsight.com
Young Change Maker Experience
Following a full year of having Young Change Makers as a part of our community, deliberately designed to bring fresh thinking from younger researchers who are achieving great things in the industry, Erin Sowell, provided a narrative of her experience. This year Erin will be working in the Membership Experience Committee specifically on the Young Change Maker Experience and she outlined her plans to build this community. We were delighted to see Tara Lantieri, A+E Networks, a recent Young Change Maker at the AGM to welcome her.
Hearing from you!
Thank you for such a wealth of amazing ideas in the Q&A session. Whether it was the suggestion of MRC members being a fabulous resource as speakers or Professor Paul Baines (welcome Paul!) suggesting to Sandra that academic institutions generate significant sponsorship from investigating important topics, it was clear that when our members get together positive sparks fly!
If you haven't yet completed the Membership Experience Survey, please do take the time to do so https://carolhaney.co1.qualtrics.com/jfe/form/SV_bvhUDtgqlyGT5ye
Looking forward to a stimulating and rewarding year
Let's embrace our theme and make 2023/4 ChatMRC!
Thank you for your support
Fiona Blades
President, Market Research Council

Back to News