President's Letter November 2022
Dear Market Research Council Members,
The MRC has been going from strength to strength over the last couple of months with some outstanding programming (thanks to Carol Haney and Ellen Sills-Levy), a whole host of fantastic new members to welcome, and some successes from existing members to share with you all and celebrate together.
Outstanding Programming
If you weren't able to attend the hybrid event, kindly hosted by the ARF, on September 13th focusing on the "ARF Universe Study of Device and Account Sharing" or the webinar in our Polling series, "The Mood of the Nation", on October 12th, or the recent webinar on November 16th in the ARF Series, "You CAN Handle the Truth: How the Truthset Project Combines Panels and Big Data to Minimize Bias", you are in for a treat when you view the recordings on our website! https:/www.mrcouncil.org/events/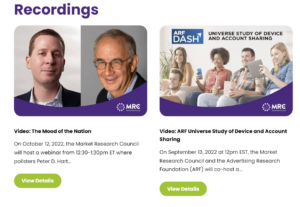 Bill Harvey wrote a wonderful review of "The Mood of the Nation" which was published in MediaVillage: https://www.mediavillage.com/article/the-public-is-divided-about-abstract-democracy/
A big thank you to all who put so much time into bringing this content to our membership and to the sponsors, AdImpact, Qualtrics and the ARF, who supported us in this.
New Members
We have another new cohort of members to welcome this month including a number from Europe.  Finn Raben was ESOMAR Director General 2009-2022; Dr. Rachel Lawes is recognized as one of the original founders of commercial semiotics and author of two books on this topic; Steven Lacey is founder of The Outsiders and Chair and Founder of The Cultural Insights Forum and Ndubuisi Uchea is a Young Change Maker, CEO & Co-founder of Word on the Curb focusing on Millennial & Gen-Z Insights.
From Latin America we welcome another Young Change Maker, Andre D'Abreu, Head of Intelligence, Research and Strategy, LATAM Airlines who has done award-winning work in Monetizing NPS.
From New York (via Manchester, UK – my home town!) we are delighted to welcome Jeff Haselum, Head of the New York team for Behaviorally and from New Hampshire, we welcome Clint Taylor, inventor, Founder and Board Member of Datality, the world's first blockchain-based marketplace for research data directly uniting researchers and research data consumers to transact at mass scale.
Sandra is planning a "Meet and Greet" soon so that we can welcome our new members and all benefit from their wealth of experience and knowledge.
In the News!
As President of the MRC, I was invited to contribute to The Market Research and Insights Report by econsultancy.  I shared my suggested answers with the Exec for their input and hope I did justice to your fantastic input.
https://econsultancy.com/reports/fundamentals-market-research-insights/.
The Quirks Marketing Research and Excellence Awards were announced this month.  Monica Wood and the Herbalife Nutrition team won the award for Global Marketing Research, while we were honored at MESH Experience to win the Marketing Supplier of the Year Award (under $10M revenue) and Dana DiGregorio was a finalist for Fearless Leader.
For those who didn't see this, J. R. Harris had a wonderful piece written about his explorations by CNN https://www.cnn.com/travel/article/veteran-black-explorer/index.html.  What an inspiration! We can't wait to see you, J.R,. at an event soon.
Coming up…
We have one more event this year so be sure to pop it into your calendars!
December 14, 2022 (Hybrid) – The Polling Series, 12pm EDT – followed by festive drinks at the ARF!
Title:  Brave New World: A Final Retrospective on the 2022 Midterm Elections
This should be a fascinating end to our programming for 2022 and we hope that you will be able to join us in person at the ARF to enjoy some festive drinks afterwards.
Thanksgiving is just around the corner, and I want to let you know how thankful I am for all of you at the MRC.  Through the MRC I have the privilege of meeting and getting to know some of the most amazing people in our industry.  I am excited about the energy that our new members are bringing to our organization and inspired by discovering the wisdom and energy of our longstanding members.  Coming to New York and having the honor of being your President this year is teaching me so much.
I wish you all a happy Thanksgiving and hope to see you on December 14th to raise a toast to you all.
Fiona Blades
President, Market Research Council
Back to News